I went out on the deck to take a picture of the deep dark blue ocean this morning. As I passed our navel orange tree, I looked down and spotted this orange! Guess the birds think we have sweet oranges too! I realized how warm it was so I went in, got a cup of coffee and went back to sit on the deck. I sat there, at times, closing my eyes to engage the other senses.
The Santa Ana winds were blowing. Santa Anas don't blow non-stop. They blow in gusts of various strengths. They can be cold winds or warm to hot winds. These were the warm winds. I sat very still paying attention. Soon I noticed the winds had stopped.
Then the wind began again and grew stronger. At times, the wind whispered lightly through the leaves and other times, the winds were so strong that the leaves began to shout, drowning out other sounds, becoming wind dancers. I felt the warmth of the sun on my cheek. Then I heard the wind say to my hair, "I can't reach her cheek but you can. Brush it softly giving her a kiss."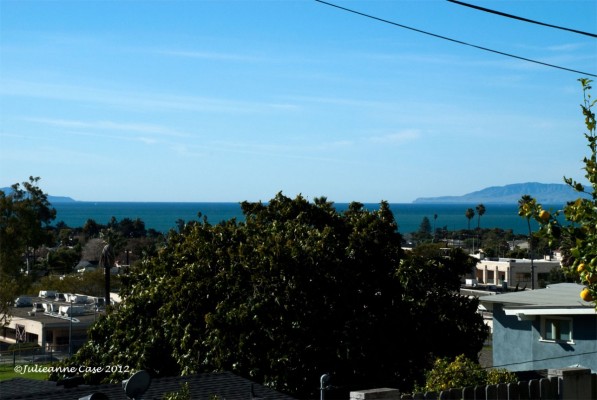 At times, I saw the wind in the avocado trees before I heard it, as the crescendo built rising to meet the strength of the wind. I pushed myhair behind my ear and felt the sun began to heat up my ear with its' hot rays. But the wind said, "No, that won't do." My hair began to move back to cover the ear as the wind picked it up and rearranged it to its' choosing.
I sat there feeling the wind, warmed by the sun, listening to the leaves. When the wind stopped, I heard tennis balls bouncing at the nearby courts and motorcycles roaring down Main Street. But the wind would take over the sounds again, rustling the leaves to a crescendo as I drank my warm coffee and savored a Southern California February morning.
Do you ever feel called to do something? Do you take the time to sense everything that is happening? Do you ever do things being mindful? Share with me what you do! I'd love to hear it.
Julieanne Case came from a left brained world, having been a computer programmer who worked on the Apollo missions and, due to circumstances orchestrated by the universe, joined the growing ranks of the right brained world starting in 2001. She became an energy healing practitioner in 2004 and has studied various techniques. She is a Reconnective Healing Pracitioner, a painter, and a blogger. She assists you in She assists you in reconnecting to your original blueprint, your essence, your joy and your well being!