Now for a fun post! Good home cooked meal recipes can be found everywhere. You can find simple healthy food recipes that fits your time and your style. Good meals are doable in a short amount of time. Treat yourself to something special every so often to feed your soul of appreciation and gratitude. The important thing to keep them healthy is to limit using processed foods.
Right now we're talking clam linguine, my way! It really is relatively simple and takes 20-25 minutes max unless you have to scrub the clams. Get family members or friends to help on that, have fun together and it's done in no time. I promise you won't get bitten either! This can be done ahead of time  and put the clams back in the frig until you are ready to cook. When you bring the clams home, get them out of any plastic bag and put them in a bowl in the coldest part of your frig.
First know that where you get your clams makes a big difference. If you are buying them from a supermarket or a fish vendor and know they get them from a distributor, you may want to buy some bottled clam juice to add to your dish. This recipe is for 2 lbs of small Manila clams. Also some clams are dirtier than others and they must be scrubbed with a strong bristle brush. Discard any clams whose shells have a crack or are broken. Also if they aren't completely closed, discard those as well. For those of us in the vicinity of Ventura, we have the wonderful Jolly Oyster to buy our clams.
First the ingredients:
1. 2 lbs of small Manila clams
2. 1 large shallot, minced
3. 1-3 cloves or more of garlic, minced
4. 1/2 cup of white wine
5. 1/3 – 1/2 cup of bottled clam juice (if clams from a supermarket)
6. 2-4 tbsp Butter (or 2tbsp butter and 2 tbsp Olive oil or all Olive oil)
7. Flat leaf Italian Parsley, washed and dried
8. Sea Salt (optional)
9. Freshly ground black pepper
10. Hot chili flakes (optional)
11. 4-6 oz of regular or gluten free linguini or spaghetti
You also want a large skillet with a lid for the clams and good sized pot to cook the pasta.
Start the water boiling for the pasta. Put the butter and/or olive oil in the skillet using medium heat. Add the minced shallot and garlic, lettingthem gently soften. After a few minutes, add the chili flakes, if using, the white wine and 1/2 cup clam juice (optional). Put the lid on and let it simmer a bit to meld the flavors.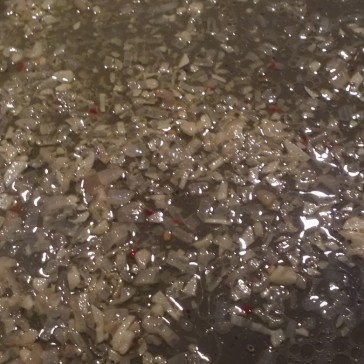 Once you add the pasta of your choosing to the boiling water, wait about 2-3 minutes then add the clams to the skillet covering with the lid. Depending on your clams, they should all open up in 4-7 minutes. If they are larger clams, you may need more time so adjust your schedule accordingly. While the clams are cooking, mince the fresh parsley.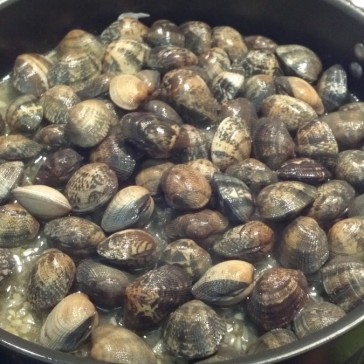 The clams will look like this when they are ready, like they are singing an Italian aria (so to speak)! If you find any additional broken shells or clams that do not open, discard those.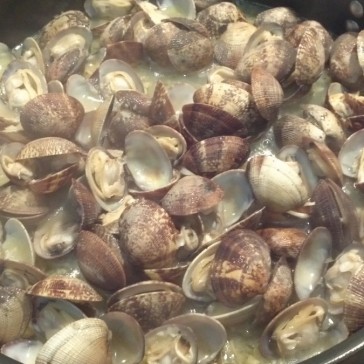 Drain the pasta, put them in a large bowl, add the clams and juices from the skillet, sprinkle with the freshly chopped parsley and serve. You can serve it with your favorite white wine or tea or whatever you love to drink. If you like wine, your favorite Chardonnay or a lovely Viognier will do quite nicely!
What do you like to make for that special meal that feeds your soul? Do you regard cooking and eating as a means of nourishment to other aspects of your being besides food for the body?
Julieanne Case came from a left brained world, having been a computer programmer who worked on the Apollo missions and, due to circumstances orchestrated by the universe, joined the growing ranks of the right brained world starting in 2001. She became an energy healing practitioner in 2004 and has studied various techniques. She is a Reconnective Healing Pracitioner, a painter, and a blogger. She assists you in She assists you in reconnecting to your original blueprint, your essence, your joy and your well being! ©Copyright Julieanne Case 2012