In my last post, I mentioned my Italian mother. My grandparents came from the Abruzzo region of Italy. It's a region to the east of Rome and part of the region borders the Adriatic Sea. My grandparents were from the mountains in Abruzzo, a little town called Castel Di Sangro.
Italy has many different regions and many have their own dialect and their own food traditions. For us, it was making sauce with different kinds of meat for a very rich, deeply flavored sauce, cavatilles (also known as gnocchi), pasta fagioli, Italian wedding soup, scamorza (a cheese similar to French Raclette), ricotta cheese pie, and Italian Wedding Cake. I can't forget biscotti either!
My mouth is just watering listing these luscious dishes. Nothing smelled better than cooking onions and garlic in olive oil. To this day, I still love the smell. It makes me think of comfort and safety, of wonderful eating.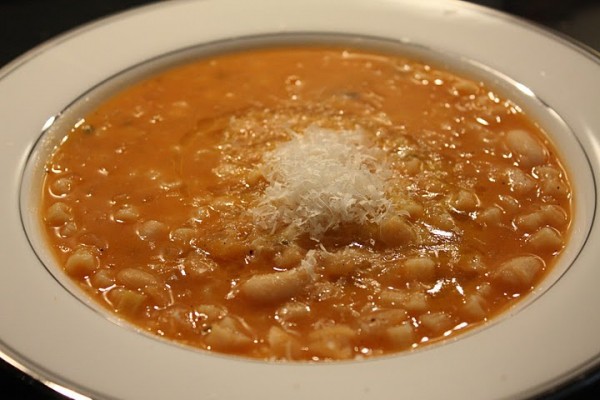 For the those unfamiliar with pasta fagioli, it is simply a soup or stew depending on how much liquid remains consisting, for us at least, of great northern or navy beans, ham hock, onions, tomatoes, garlic, and celery cooked together to meld the flavors. Then you cook pasta and add it to the mix. It starts out as soup and as the pasta absorbs the liquid, it becomes a thick stew.
I had a love/hate relationship with this dish. Not always but at one point, finances became tight and that's all we ate for many nights. I swore I'd never have it in my house when I got my own place. And I kept that promise until mom came out for a visit after I'd been in California for about 8 years. She asked me if I wanted her to make some pasta fagioli. I relented but would only let her make the bean soup, no pasta.
Then I relented again and we cooked enough pasta for just one meal and added it to some of the bean soup. (Yes, there was enough bean soup to feed many! Remember I said my mom only knew how to cook for 8-10!). I froze the rest of it to eat after she left.
I didn't make it again until… I took my boyfriend (now husband) home to meet Ma! She made us pasta fagioli for dinner. At that time, we'd been together about 3 1/2 years. After one spoonful, he turned to me and said "Why don't you ever make this?". I was doomed!
Now it's a winter staple in our house. And I enjoy eating it. It's real comfort food and it warms you up on the cool nights of California fall and winter. I made peace with Pasta Fagioli.
What foods are comfort foods for you? What foods warms you up or makes you feel loved and nourished?
Julieanne Case came from a left brained world, having been a computer programmer who worked on the Apollo missions and, due to circumstances orchestrated by God/Source/Universe, joined the growing ranks of the right brained world starting in 2001. She became an energy healing practitioner in 2004 and has studied various techniques. She is a Reconnective Healing Pracitioner, a Reconnective Artist, and a blogger. She assists you in reconnecting you to your original blueprint, your essence, your joy and your well being! ©Copyright Julieanne Case 2013