We live up the hill behind the baseball diamonds of a high school. We've been here a long time and experienced things we've liked and things we haven't. The noise from the games, stadium floodlights flooding our house, damaged mailboxes, empty beer cans in yards (don't they know to recycle cans? Oh, yes, best not to take home beer cans!), cars blocking our driveway.  We've watched things get cleaned up, we've seen stadium floodlights redirected, mailboxes now intact, and no more beer cans. We also lost the dog turf when they put in artificial turf (we always cleaned up after our girls!)
But in the last few years, we've had another set of problems:
#1 The school engineered a blockade of a main thoroughfare of this city with a misleading campaign. This road intersects the school between the sporting facilities and the main campus.
#2 A link chain was installed across our street because the first blockade sent people racing up our narrow windy streets at unsafe speeds because they must detour.
#3 Street signs saying our street is closed from 7:30am-4:30pm (confusing to new visitors)
#4 Cars stopping in the middle of the only street into our neighborhood to pick up or drop off kids, holding up traffic.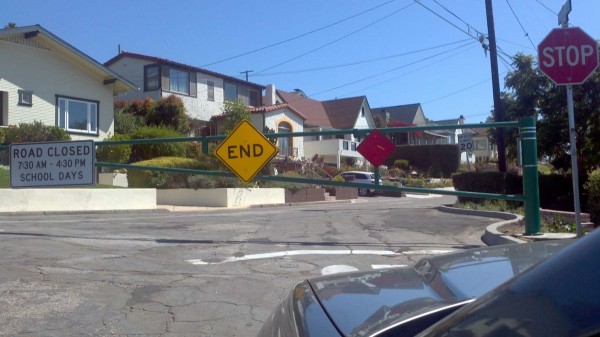 #5 really got the neighbors upset. Without notification or approval from any of us, the school installed large iron gates across our street where the link chain had been. It's huge, ugly and makes us look like we are in an armed camp. They pushed the curb back to install this unsightly mass of swinging gatehood.
All of this is coming up right now because the school year has begun and I'm faced with some of life's irritations regarding the school, our neighborhood and our streets.  It's an old neighborhood with vintage light poles and we love it.  We dislike having to drive out of our way to get to our home or being held up by inconsiderate people who thinks it's perfectly okay to stop traffic to load or unload passengers.
I've decided to put my camera to use. I'm going to take a photo of the car and the license plate and send it to the city and the police. If that doesn't work, I'll come up with another plan.
And at the same time, I wonder why I've attracted this situation into my life? What am I to learn from this situation?  Slow down? What do you learn from life's irritations in whatever form they come to you? I'd love to hear what you learn from these situations.
Julieanne Case came from a left brained world, having been a computer programmer who worked on the Apollo missions and joined the growing ranks of the right brained world. She became an energy healing practitioner in 2004 and has studied various techniques. She is a Reconnective Healing Pracitioner, a painter and a blogger.