I'm a foodie.  Seems like I've been one forever so maybe I came out of the chute that way.   I know I bugged my working single mom to teach me to cook and soon I was making home cooked meals at age 11 or 12. I never stopped cooking. My love of food continued and grew.
So it's no surprise to anyone who knows me that any vacation is going to include great food, preferably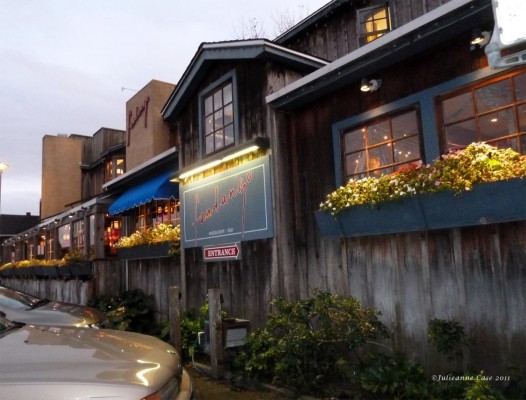 gourmet food.  Luckily my husband loves food too.  He'd have to love food or I wouldn't have married him.  I stopped dating a guy because he didn't eat onions!
Over 20 years ago we discovered Pacific Grove and we spent many a holiday there.  On one trip we found a restaurant called Fandango.  They were open on Thanksgiving and Christmas offering a set menu with a limited choice of entrees.
We are not fast food or Denny type eaters!  No way!  I checked with Google and found Fandango was still there! I remembered our wonderful experiences there.  Would it still be the same? Only one way to find out.  When our plans were finalized, I called Fandango and made reservations.
It's still a delightful place with many small rooms, warm inviting atmosphere and decorated with charm, flowers, and Thankskgiving decorations.  We arrived early and decided to enjoy a drink before dinner.  The bar isn't terribly comfortable and the owner acknowledged that and said he'd gladly get us a table sooner if we liked.  We liked.
Dinner was great. It's Mediterranean and European style cuisine.  Sauces are always delicious.  We started with wonderful duckling pate with hot crusty rolls and kalamata olives for an appetizer, a wonderful spinach salad with candied pecans and blue cheese crumbles with a vinaigrette dressing followed. Ron chose the turkey with sage stuffing, I took the New York strip steaks.   Both came with mashed potatoes, gravy and wonderfully delicious green beans.
We enjoyed a lovely bottle of Irony Pinot Noir, perfect with both our meals.   We chose to have the profiteroles filled with cappuccino ice cream for dessert.   Service was great and our memory of this charming place was intact!
What has been your experience when you've revisited a place you enjoyed many many years ago? Did it live up to your memories of it? Do you have a favorite food place in a vacation spot you love to revisit?
Julieanne Case came from a left brained world, having been a computer programmer who worked on the Apollo missions and, due to circumstances orchestrated by the universe, joined the growing ranks of the right brained world starting in 2001. She became an energy healing practitioner in 2004 and has studied various techniques. She is a Reconnective Healing Pracitioner, a painter, and a blogger. She assists you in reconnecting to your original blueprint, your essence, your joy and your well being!