Ok, we are truly spoiled. We live in California with access to amazing organic fruits and organic vegetables year round. We cook our dinners using the freshest ingredients as much as possible. The abundance of choices we have is huge.
So with all this, I find we get stuck doing the same dishes over and over. Some days we want something different. I found myself in that situation the other night. We had boneless organic chicken breasts. I didn't want them broiled, or baked or done with rosemary, white wine and garlic. I didn't want chicken piccata, all our standard fare.
So I realized I had to think outside our box of standbys. I knew I was going to flatten the breasts for easy, quick and even cooking. So what did I have? I had onions, red bell pepper, fresh and frozen whole tomatoes, garlic, herbs. Ok, a quick light tomato sauce to put on top of the chicken.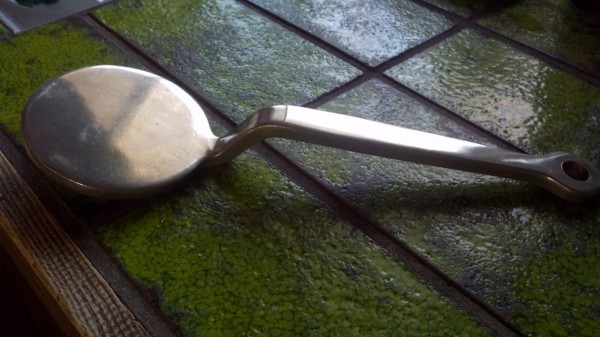 With my trusty meat mallet, I had the breasts flattened to about 1/4 inch plus overall within 5-7 minutes for 3 breasts. Flattening them breaks up the tissues and getting the thickest part to be about the same size as the rest of the chicken. This helps it cook quickly and easily. I had found this great mallet years ago. It's still available for the same price and it's so worth it!
I sauteed the chicken breasts in extra virgin olive oil seasoned with salt, freshly ground pepper, oregano and marjoram. It took 5-7 minutes or so turning them once and seasoning the other side. You want them just barely cooked through at this point. I put them on a dish and into the oven to keep warm.
I added some more olive oil, added 1/4 of a large onion, chopped, and 1 large clove garlic, minced. Then I chopped one small whole tomato, added two frozen chopped plum tomatoes, seasoned everything with salt, pepper, oregano, basil and added some dried chili flakes. Adding a little white wine, I covered it with a lid to let it all cook.
Soon I added some halved pitted kalamata olives, say 8-12 olives. Then I removed the lid to let some liquid evaporate, added the breasts for the last 5 minutes. I put the breasts on the plate, topped it with the sauce and served. Start to finish 25-30 minutes. This is great with fresh green salad with  an Italian vinagrette. Buon Appetito!
Julieanne Case came from a left brained world, having been a computer programmer who worked on the Apollo missions and, due to circumstances orchestrated by the universe, joined the growing ranks of the right brained world starting in 2001. She became an energy healing practitioner in 2004 and has studied various techniques. She is a Reconnective Healing Pracitioner, a painter, and a blogger. She assists you in She assists you in reconnecting to your original blueprint, your essence, your joy and your well being!